I've started gathering materials for my Summertime Stitch-a-Long quilt. This gorgeous pattern is designed by Erica Kaprow and can be purchased from Pattern Spot for only $10. And you'll have the pattern straight away as it is an ePattern. If you want to stitch-a-long with me please read my January 1st post HERE
Yesterday I went to Darn Cheap Fabrics in Heidelberg and bought some truly beautiful 100% wool flannel for $19.95 a metre. If you are out looking for wool for a project don't forget to look in the suitings section of general fabric stores. I've found it the best place to buy large pieces of background fabric at a good price.
Next, my parcel from Bumblebee Designs on Ebay arrived. A wool/felt combination of lovely quality felt was $36.00 for 32 pieces. I couldn't resist these adorable little crocheted motifs made by Pietrina herself too. I've purchased felt from Pietrina before and so know her felt is lovely to sew and the service she gives is impeccable.
Lots of my gorgeous bloggy friends sell wool felt and I have purchased felt from gorgeous Shell from Raspberry Rabbits so know it is great too. I'm sure, if you are stitching along you'll find some wool felt locally to cut down on postage costs.
I also have some of my beautiful wool fabric from the Wooly Bits Club at the Quilted Crow. In my wool stash is the beautiful pink and pink/purple over dyed wool from my wonderful friend Sue. Lastly I have the gorgeous jumpers I've bought from Op Shops and felted myself. I felt these jumpers by doing the opposite to everything you're advised to do to your woollens. I wash them in hot water and throw them in the dryer and if you do this a couple of times - to da - they are felt.
I also gathered a cheap glue stick - three for $2 in Kmart (Just check on the label that it's suitable for fabric) and some freezer paper and I was ready to go. I trace any applique pieces for a wool piece onto freezer paper and then iron the waxy side onto the wool and cut out the piece. You can re-use this freezer paper template many many times. I then simply glue the pieces to the background fabric and I'm ready to stitch. I'm going to hand blanket stitch or use a running stitch in parts, as my quilt is going to be a wall hanging and will get a good shake every now and again but I won't be washing it.
Here are the first bits glued on.
Now I'm all ready to stitch away today at my lovely NOTYQ weekly Sit and Sew session.
Simple, beautiful and easy to make. I adore this burlap flower.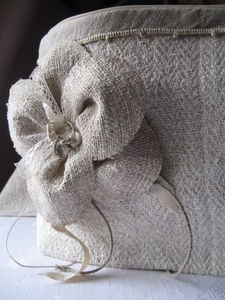 The tutorial is on the most exquisite blog, Si un mas m'Etait Conte. Don't forget to click the translate button. Click HERE for this project.