Sweet little Katie is sitting in the garden waiting for her friends to arrive so they can set off on the picnic. She is another little bear made for Handmade a few years ago. I had close to 100 patterns published so there are lots more little bears and dollies waiting for their turn to come on the picnic. I think of her as a dolly-bear because she has a cloth body under her clothes. I figured it helped keep the cost down for people who were making her as there was not as much mohair required and since she was going to be dressed, including of course her bloomers, no-one would know. I still love the fabric I used and the suffolk puff flowers adorning her dress.
I'm sure you have a bear or softie who would like to join in the fun. There might even be some left over Easter eggs to eat. Please pop your details into Mr Linky and join in.
Today I thought I'd share a few cute images and a font you can use for scrap booking or making cards, book marks etc.
Tear Bears are really popular at the moment and
Joy for Scrapbooking
has a really great tutorial
here
.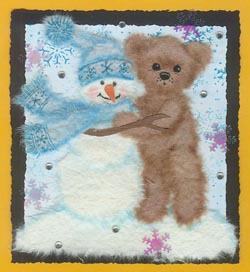 One of my very favourite places is the
Graphic Garden
. I've loved Helena's work for years. She is so talented and generous. This one can't be missed.
Clipart for Free
will direct you to heaps of sites with adorable free images. Take a look
here
for teddy bear images.
And finally a
fun teddy font
from
Dafont
If you are an animal lover please consider supporting the Free The Bears Fund. I do and it makes me feel good to know that I am helping to give the bears in various sanctuaries around the world a safe, peaceful and happy existence.