I, Melody, will try my utmost...
·
To always swap on time.
·
To always email a THANK YOU to my partner.
·
To be considerate and thoughtful when choosing a gift.
·
To give my partner the quality of gift that I would like to receive.
·
To communicate when it's required.
·
To NEVER over commit and let a partner down.
·
To advise the swap mama when I receive my gift.
This I sewomly pledge....
And I'll be working on my first swap item of the year, a stitched and initialled Valentine's Day swap, this weekend. John's not well so I will nurse the invalid, sit happily in the garden stitching away and maybe I'll play with my cute little puppy dogs too.
I've been including some of my pin cushion collection in the pictures I've posted this week. Here's one I'd like to add to my collection.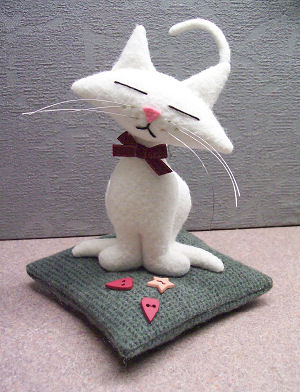 Super cute and a free pattern too. Thank you so much to Doll Maker's Journey for sharing it with us HERE.
Hope you have a wonderful weekend