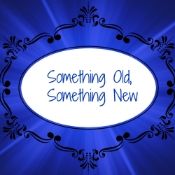 To encourage myself to stick to my plan to devote 2014 to working on my UFO's and using up my stash I'm joining in with Lynne at Never Too Hot to Stitch in her Linky Party. You can read all about it HERE.
Yesterday I made some more hexies for my Stitching Round the Block UFO. I'm hoping to have it finished and up on the blog tomorrow.
When looking for a link for you today my mind turned again to pincushions and I found this very charming one at Stitches and Crosses Marijke. There is a great tutorial too.
Just go HERE. I'm so glad I found this delightful blog. I think it will become one of my favourites.
I thought you might be interested in this piece of fun. I might even give it a go myself. Sounds like a brilliant way to use up some of my stash. Pop over to fabulous Red Pepper Quilts to read more.