Little Lotty is the picnic girl today. She sits on a shelf with the pincushions in my sewing room so I'm sure she'll enjoy a day in the garden instead. Do you have a bear, dolly or softie to bring on the picnic. Please pop your details into Mr Linky and join in the fun.
Here are some more pin cushions I plan to make.
Too cute to resist. A great tutorial from Goody Goody. Many thanks to Lauren for a great design.
These are irresistible too. Another great tutorial as well. Many thanks to Timothy at Fantastic Toys.
And I'm so in love with this one. The tutorial pictures are so good it doesn't matter that the text is not in English. Enormous thanks to Elena at Decore Blablabla.
As most of you know I adore the work of Jenny from Elefantz. I stitch her designs very often and love them all. On top of that she is the loveliest person and I'm lucky enough to count her as one of my dear blogging friends. She has very kindly donated the most wonderful pattern as a Teddy Bears Picnic giveaway prize.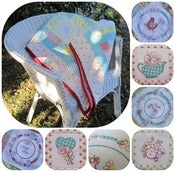 Circles of Life is a wonderful quilt featuring the most beautiful stitcheries. You can make the whole quilt or incorporate the stitcheries into other items. This is what I did last year.
Jenny is also incredibly generous and shares so many fantastic designs for free. This year's BOM is Promises and Borders and it is both charming and meaningful.
The patterns she sells are always such good value and I highly recommend her monthly magazine Elefantz Home. I've subscribed from the beginning and look forward to every issue. Why not take a look. Jenny is very kindly allowing you to sample Issue 1 for free.
Please pop over to her wonderful blog and take a look - you'll love it.
Now to the giveaway.
Three ways to win this week.
Bring a teddy or softie on the picnic

Leave me a comment on this post

Leave Jenny at Elefantz a comment and come back and let me know you said Hi to her
This giveaway will end on Wednesday night and I'll announce the winner on Thursday 22nd March Good luck.