A few people have emailed me saying they would like to make a balloon girl too. Unfortunately I wasn't the clever one who thought of this. I saw this on the
Feeling Stitchy
Flickr stream ages ago. It had suffolk puffs instead of balloons. At the time I recognised it as a Banksy image so I just googled
Banksy balloon girl,
downloaded the image (this version is from Cheryl's blog
An Embryo of Hope
), printed it out the size I wanted, traced the outline and stitched away. I plan to stitch the girl with the heart balloon too.
I have searched the
Feeling Stitchy Flickr group
a few times to acknowledge the person who originally thought of the idea, but have not been able to find the image again, admittedly there are over 76,000 images now. Sometimes I make myself a cup of tea (or a gin and tonic, depending on the time of day) set the stream on
Slideshow
and sit and bathe in the inspiration.
With the weekend here it gives some of us a bit more time for sewing so I thought I'd share a few patchwork projects I've discovered while playing in blogworld.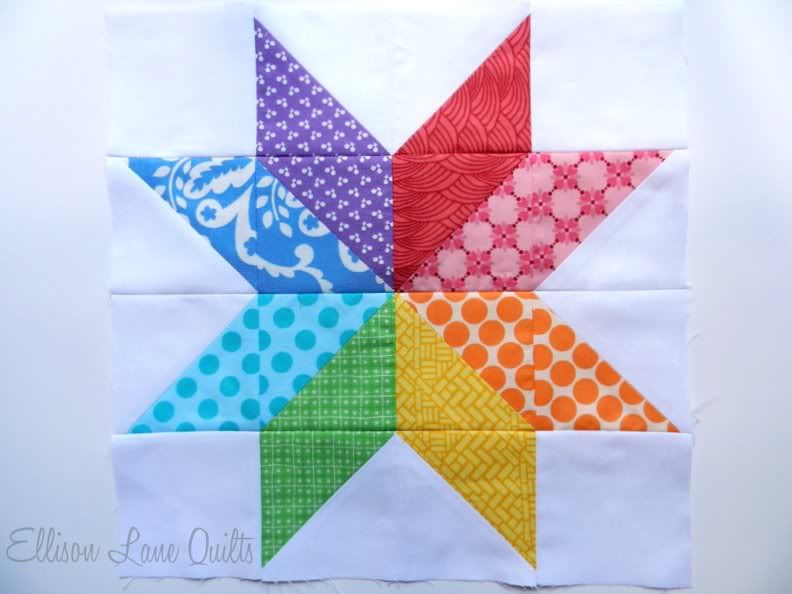 A gorgeous colourful Starflower block from Jennifer at
Ellison Lane Quilts
. There is a brilliant tutorial and you must pop over to see the whole quilt.
and
A super cute patchwork bag tutorial over at
A Quilting Life
. Thanks so much Sherri.
and
A fabulous tutorial and template for this stunning Whirling Star block. Made by clever Faith at
Fresh Lemon Quilts
. Many thanks.