Yesterday the postie brought me a parcel from El Paso in the USA.
Such a romantic place name, conjuring up images of old westerns watched in my childhood. Inside the parcel were two really beautiful hexie flowers and a lovely keepsake photo. They came from Irene as part of the
Inchy Hexie Flower Swap
and I love them. Thank you so much Irene.
Every year I buy a few bloomers pots containing polyanthas. Their cheerful little faces always add a dash of colour to the garden and I delight in their gorgeous blooms which go on for months.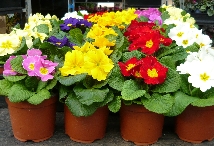 Lovely Bronwyn over at
Korumburra Quilting
hosts Floral Fridays and I always enjoy seeing what other gardeners have to share... and craftspeople too.
Another brilliant flower garden from the Tea Cosy Exhibition. Pansies have always been one of my very favourite flowers.