I love the fact that my local quilt shop, The Quilt Shop ,stocks Tilda fabrics.
Although I'm not starting anything new at the moment I am collecting the magazines and fabric so I can stitch the BOM designed by Natalie Bird of The Birdhouse, later in the year.
Here's a bit of the quilt, Foxley Village, to tempt you.
With the Aussie dollar being so low it would be a great time for my overseas friends to stitch a project by an Australian Quilter.

Homespun is available in newsagents and craft shops Australia-wide, or digitally from Zinio, Apple Newsstand or Google Play.
I bought my subscription through Zinio, so it is an on-line subscription for Australian dollars $29.40 for 15 issues. This is $21 US dollars or 14.48 British pounds for 15 magazines and you can download the pattern sheets for free. A super bargain and you don't have to worry about storing a whole bunch of magazines.
Speaking of Homespun they share a heap of gorgeous free patterns online and I fell in love with Miss Kitty Kat as soon as I saw her. You can find her pattern HERE under the EB Projects tag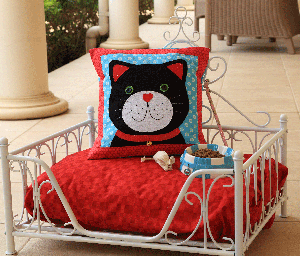 Hope your day is full of fun