I headed off to Lisa's Stitching Soiree and wondered where I would be sitting, as most of the others I know had been on Saturday. Well, I was blessed because I was sitting on a table with these wonderful ladies.
Wendy, Sheryl, Me, Carol, Rita and Cathy
And I could not have dreamt of a lovelier bunch. We chatted, we laughed, we even shed a tear when we heard the very sad story of the death of Wendy's treasured younger sister. I certainly hope I see each and everyone of them in the future.
Particular thanks to Sheryl who was so kind to me, getting me an extra comfy chair, cups of tea and generally helping me with my mobility issues.
The goodie bags were certainly filled to the brim with wonderful patterns, six in total + two kits and the most gorgeous little sewing kit.
And as for the food, yum yum yum. Here are the yummy cakes which awaited each person. Then quiche, salad and bread rolls and the most delicious berry cheesecake. Finally the famous giant muffins for afternoon tea.
Lisa from Fig'n'Berry was as lovely and charming as ever and I met Melissa from One Day in May for the first time. She is super talented and a total sweetie-pie, I am now a huge fan.
I could not resist buying two more of her patterns + two finishing kits for Lisa's projects.
I always seem to be lucky in the door prize draws and I won this lovely Cottage Garden thread from delightful Karen of Mrs Martins Quilt Shop.
All in all another wonderful day. The next one is in May next year and I've already signed up. I'm looking forward to more fabulous fun.
These pot holders are brilliant...so much fun and practical too.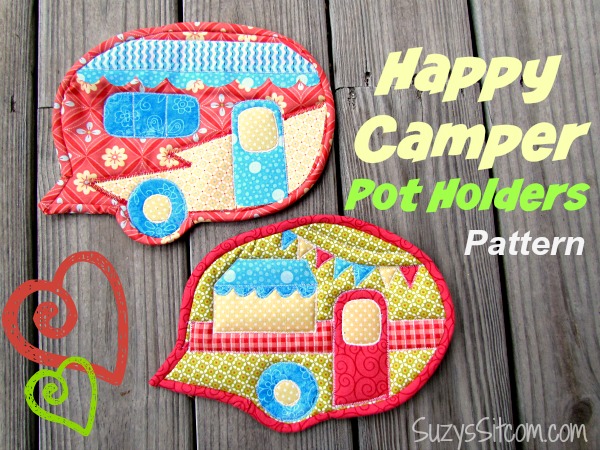 You can find the fabulous free pattern by following this LINK. There is a brilliant tutorial too. Enormous thanks to wonderful Suzy from Suzy's Artsy Craftsy Sitcom, for sharing it with us.
Hope you have a super happy day today