On Thursday night Kelani Fabric visited our NOTYQ guild meeting. So much deliciousness on show and to buy too.
I did buy some beautiful bird fabric
but I mostly resisted as I had a bit of a shopping trip over at G J's fabrics last Tuesday.
I think I've finally found the right fabrics to suit my Flowerville project. I am SO in love with them.
And I bought a couple of these Sue Daley jelly rolls too, as I plan to make a new quilt for our bed. The fabric range is called Forget Me Knot and is very very pretty.
It is going to be a log cabin quilt with little pentagon flowers in the centre of each block. Gorgeous Di Ford taught me to make these.
I'm hoping they will look a bit like these beauties made by Brigitte Giblin.
Hopefully this quilt will not show the doggy footprints quilt as much as the white and pink quilt which is there at the moment.
I've had a very exciting weekend. On Saturday I attended a felt making workshop at NOTYQ and on Sunday there was a Fig n' Berry Stitching Soiree Both were fabulous so I have lots to share this week, including the opening of Michelle's wonderful swap gift. But for now back to sleep for me. My horrid MS makes me sleep a day or two for every day out but its worth it when you have so much fun.
This is certainly a beautiful baby quilt...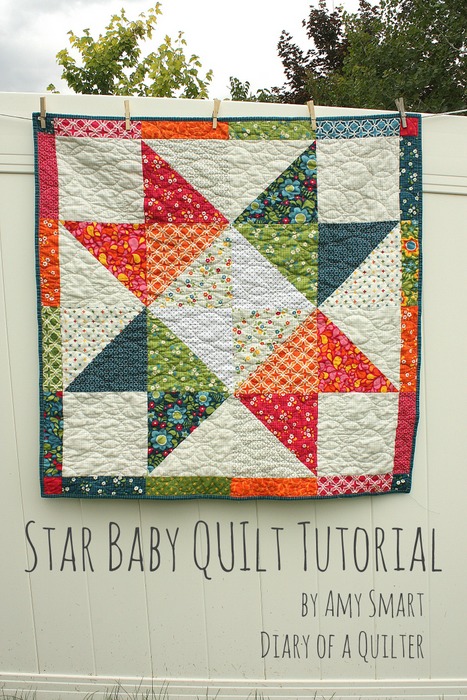 ...and because I found it at fabulous Amy's place, Diary of a Quilter, I know it will go together beautifully. Here is the LINK. Enormous thanks to Amy for sharing it with us.
Hope you have a fun filled day