No wonder Barb calls her fun filled workshops A Day of Play as that is exactly what I did, and some of my very favourite people were my playmates.
Here are Shez, Ondrea, Tracee, Sue and Cheryl. My wonderful Millrosie and blogging friends. And I was pretty excited to make a new friend, lovely Lorraine,
Here we are with wonderful Barb. Cheryl and I plan to sit with Lorraine and her friends at Karen of Mrs Martin's Summer School, so I hope to get to know her better - we do seem to be kindred spirits who both love similar things.
Barb had so many samples to inspire us and was so generous with all she shared. Karen was as warm and wonderful as ever and filled us with delicious yummy treats. All in all a brilliant day.
I love this photo collage by Shez so I pinched it from her Facebook page to share here. Thanks Shez.
I was lucky enough to be able to use this occasion to hand over my Friends Having Fun Swap presents to Keryn. I love stitching for swaps, one of my very favourite things, but I must confess it is a relief when all the presents are finished.
I wanted the gift box to be bountiful and I think that is the look I achieved.
Finally I wanted to share this picture because my darling Sammy won first prize in a photography competition with this pic of happy little Henry driving a train at DVR.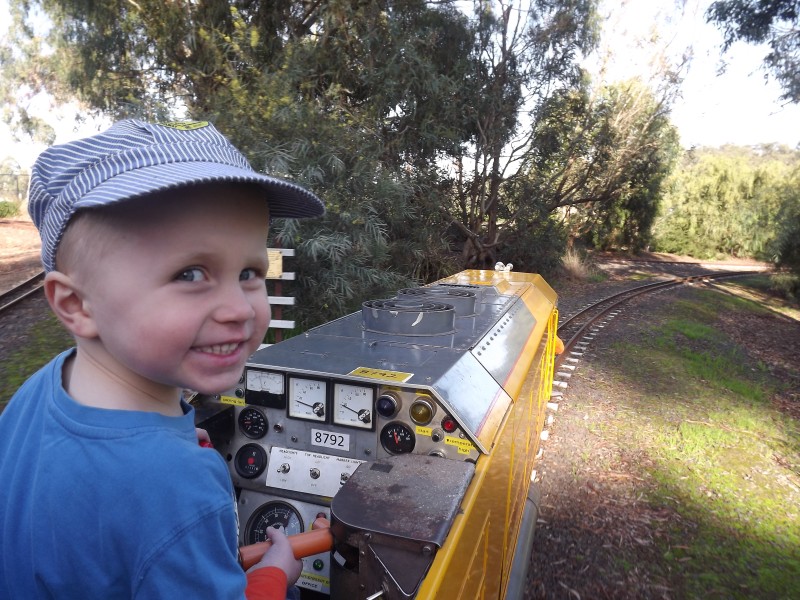 Lovely Lorraine found this link and I am very much in love with these acorns. I recently made some suffolk puffs for a Christmas project and I've got the bug again. I think I can see a bowl of these on my coffee table in the future.
Here is the LINK to this gorgeous project on Crafts 'n Coffee. After a bit of exploring I am totally in love with Crafts 'n Coffee. I think you will be too.
Hope your day is filled with fun and creativity.