I love that feeling of finding a bargain. For many years I was a shopping tour hostess. Each weekend I would meet up with a group of ladies and off we'd go for a day of bargain shopping, visiting factory outlets and clearance shops. This was my dream job. Anyone who knows me knows I love to talk, so being given a microphone for a day was bliss. And I love to eat, and the job included a free meal in a restaurant each day. And there were bargains, real bargains...it gave me a taste for not paying full price which has stayed with me forever.
So I've decided to start a new section in my blog...a section for bargain hunters...and a place to share the fabulous shopping triumphs we have experienced. So if you find a bargain or have a money saving tip related to stitching please let me know so I can share it here.
Look for this cute little logo in my posts. I found my adorable kitty cat image on Free Pretty Things For You. It is a wonderful place to visit. Enormous thanks to Keren for all the loveliness she shares with us.
So off I go...Do you love wool fabric in quilts and pincushions and needle-cases and lots of other projects?
If you do, now is the time to pounce and buy a super bargain. Many fabric shops - the one's for people who sew clothes - sell off their winter stock, including their wool suiting, this time of year (or in six months time for my northern hemisphere friends).
I find most wool suiting, as long as it is at least 70% wool will felt up beautifully and (sorry patchwork shops) it is so much cheaper than the wool sold by patchwork shops. For example I checked half a dozen quilting shops and most wool fabric was about $80 a metre. It is usually around $20 a metre in general fabric shops.
The beautiful wool suiting I bought today was $5.40 a metre at Spotlight. Yes, a saving of 93% on the quilt shops' price.
This week Spotlight has 30% off its fabric. This fabric was marked at $17.00 a metre, so it would have been a bargain at $11.90 a metre but it scanned through at $5.60 a metre so my 25cm was only $1.40. I queried if I was paying the correct amount (I wouldn't want the shop assistant to get in trouble) and they assured me that what the scanner says is the correct price is what it sells for. And yes they do sell on-line.
This wool does not fray at all so you do not need to felt it. If you plan to wash the item you are making then do wash the wool before you use it. It will shrink a bit.
I'm elated because

I Love a Bargain.
This is a great one.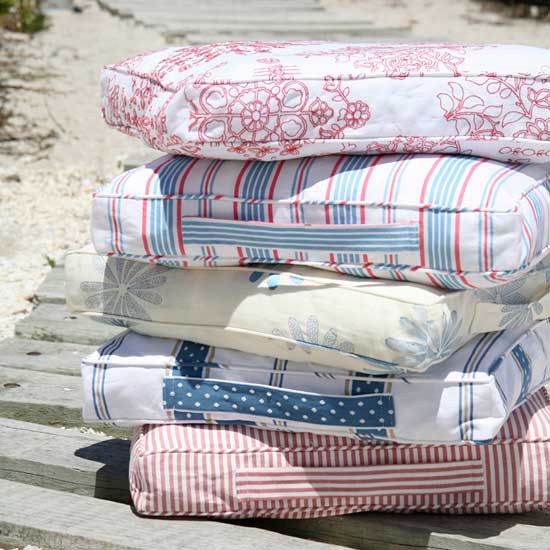 I found it at fabulous House to Home. The instructions are HERE. Huge thanks to all involved.