I'm very happy to be part of OPAM again this year. It is organized by our friends Peg of
Happy in Quilting
and Kris of
Tag Along Teddies
. Many thanks ladies.
I'm pretty happy with my January finishes.
One Blanket of Love
One decorated tea towel
One tea holder
Four Hexie lavender bags
Stitching Around the Block wall hanging
One Christmas ornament
One cat themed mini quilt.
I also fulfilled my promise to myself to follow Sue's philosophy with something for charity, something for the present box and something for me.
The Christmas ornament was made for sweet
Narelle's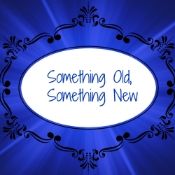 I'm also linking up with
Shanna
and
Melissa
for A Lovely Year of Finishes and I'm linking up with Lynne from
Never Too Hot to Stitch!
as I finished my Stitching Around the Block project
I also stuck to my two fabric related pledges
so I'm actually quite chuffed with myself
Huge thanks to Maartje
As part of Vicki's GYB party I found Cynthia's delightful blog
The Crane's Nest
and discovered she shares one of her exquisite calendar pages each month. You can find an example
HERE.
Hope you have a fun filled day
Love