to stitch the first two blocks in this great BOM called Quilty Stitches and very kindly shared at Little Miss Shabby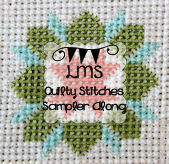 When I was at fabulous Crafty Hijinks there was a wonderful area where you could drop off and pick up unwanted craft items. I found a beautiful piece of linen. Ballarat Patchwork (which very sadly is now closed) had a stall and I bought this gorgeous bundle of Cosmo threads for 40% off.
So now I have the materials and the patterns - so what is stopping me? Nothing, I plan to start stitching tonight.
I'm feeling very positive after my tests. I now have a new doctor to add to my medical team and she is a truly inspiring and wonderful young women. She is very much on the ball re new treatments and has offered me much hope. That's enough about my health, I feel ready to sew, sew, sew.
As many of you know I just can't resist CUTE and this one is very very cute.
I was really happy when I found this LINK to Pimp Stitch. Many thanks.
PS If you pop over to my lovely friend Christine's blog you can see her finished versions of the first two blocks and her new daughters too. LOL