As I said yesterday I was thrilled with all the wonderful birthday gifts I received from bloggy friends.
Michelle from Rag Tag Stitchin' made me feel very special as I received a hand drawn and coloured piece of her art as my birthday card. I am going to frame this beautiful 'M' and hang it in my sewing room.
A parcel from Michelle is always so beautifully put together and I received a beautiful piece of Tilda fabric for my collection and a cute and charming hexie one as well. There was also exquisite paper napkins, my favourite Werther's caramels and a sweet, sweet birdie hanging. No wonder I feel spoilt.
Illene made me feel very spoilt too. She picked two absolutely beautiful fabrics and popped in some Lindor choccy balls too. Yum yum. You can visit Illene at
Ret Dairy Queen
.
Next is this loveliness from sweet Sue at
Quilted Hugs.
Sue was one of the first people to welcome me to blog world and she is very dear to me. How beautiful is the fabric she chose and I love, love, love the needlecase.
Next came two really adorable fabrics from lovely Kaylee and she added this sweet little phone case with Paris on the front to make me feel truly sophisticated. Just gorgeous.
And Narelle made me feel pretty special too. I love the fabric she chose and some wonderful thread was included two. It matches the colours in the fabric perfectly. Narelle has been shopping at our sweet Fee's shack as she also popped in some beautiful bows and trim too. What a fabulous parcel.
Enormous thanks to these wonderful ladies who I'm really thrilled to have as blogging buddies.
There is a fabulous tutorial over at Stitches and Scissors for the interlocking stars block that is used in this stunning quilt.
Isn't it gorgeous. This is the LINK. Enormous thanks to Darci for sharing it with us.
Friday Night With Friends is always so much fun. You can sign up with our lovely Cheryll at Gone Stitchin'. Hope to stitch along with you.
And the second block in the Quilty Stitches project is now available at wonderful Little Miss Shabby.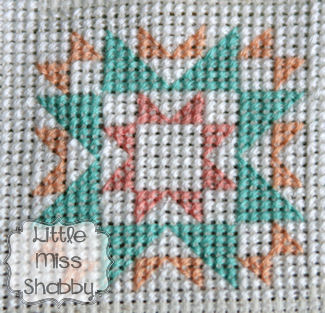 Yesterday I finally got around to updating all the projects onto the Links to Fabulous Free Stuff 2014 on Pinterest. Just click the first logo in my sidebar to take you there.