Yesterday the most beautiful hexie flowers arrived from Linda in Canada.
Huge thanks to Linda for sending such loveliness my way. The card is gorgeous too.
And I'll be keeping this stamp - the little bear is irresistible.
I've seen a few super cute paper dresses around lately in trendy florists, vintage shops and on the web. Of course I want some (I'm so predictable), so I set out to find some patterns and tutorials too. If you get a card from me in the next month or two don't be surprised if it's adorned with a cute little dress. Guess I might have an excuse to visit the scrapbooking shop too. I'm really lucky because there is a Kaiser Craft clearance shop less than 10 minutes drive away.
The Kaiser Craft site is a great place to explore as they have lots of inspiration and ideas to share. You could start HERE.
Anyway back to the dresses.
The first place I visited was the blog of amazing Kellie Reynolds, Kell Bell Studio. Such a beautiful and inspiring blog.
Here's a beautiful paper dress, called Sweet Lolita, with the LINK to the template and a video tutorial.
Craft and Creativity is a gorgeous blog. Helena has got so much style. She hails from Sweden so don't forget to hit the translate button.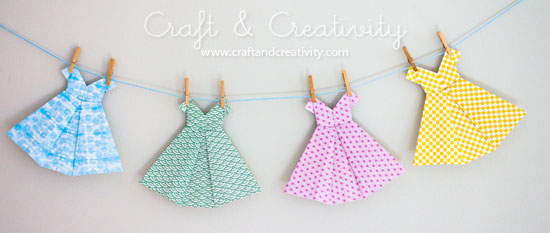 I found this divine line of dresses HERE and discovered Helena used this post
from one of by favourite blogs, How About Orange to lead her to a YouTube video HERE
You can buy a kit to make this darling and inspiring garland at Shabby Boutique
This is paper and so is this.