It's time for another Give-A-Way. It's time to send the Travelling Treasures on the way.
Debbie at Sweet Little Cottage came up with this idea and I think it's a brilliant one. Each month a small parcel of Travelling Treasures will wend it's way to a new blogger, who can take what they wish from the parcel, add some new goodies and send it on to the next person.
Here's what I received from lovely Debbie.
I'm keeping the Bareroots pattern and the fat quarter. I'm adding a delightful pattern from Joy at Joy Patch, a Vintage Modern fat quarter and some really cute gingham trim.
I'm also popping in this dear little button.
I'd love to send this Travelling Treasures package on to the next person. If you would like to play, please leave a comment on this post (you've got a week to do this) and I'll let everyone know where it is heading next Monday. Debbie and I would be very grateful if you would spread the word about this little bit of fun.
PS I'm happy to post internationally. If you don't have a blog you can still play along. I'll be happy to advertise the next giveaway for you and I'm sure Debbie will too.
I've been finishing a few gifts for swaps and so I went on a search for some lovely free printables. Here's a couple I thought you might like too.
One for the hexie lovers from fabulous Ginger and George. Here's the LINK
Some gorgeous gift tags HERE at the Handmade Home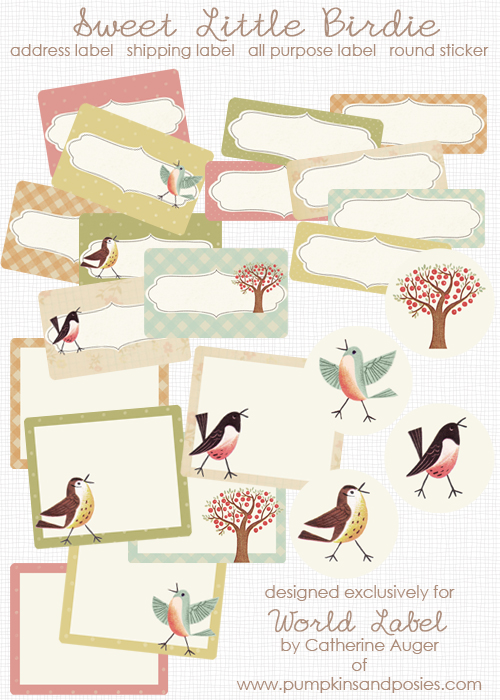 And finally these adorable birds from World Label. Here's the LINK. These are designed by fabulous Catherine at Pumpkin and Posies.
PS I've been having a lot of trouble with the LINKS on my posts not showing up the nice bright colour I chose and some people can't see any colour on the links at all. So until I can figure out how to solve this problem I'll be underlining all the links. Hope this helps.