I spent the weekend doing some secret stitching for the next Mill Rosie Friends Get Together. At our next meeting we are having an Anni Downs Swap. All you have to do is make a project by Anni - we will put them in a great big bag - and then participants can lucky dip for a pressie. Here's an example of what was swapped at the last meeting made by Shez and Barb, with the chosen designer Rosalie Quinlan
From Shez...
...and from Barb
So how do you become a member of the

Mill Rosie Friends.

Just come along to our next

Bloggers Get Together

. Everyone is very welcome. You don't have to have your own blog, you can be a blog reader too.
When
Saturday November 17 at 10.00am
Where
Ballan
, Victoria (just off the western Highway, before Ballarat)
Milrose Quilts and Gallery is at 92 Inglis Street, Ballan
The Mill Cottage restaurant is at Main Road - 96 Inglis Street Ballan
What is there to eat?

Here's the Lunch Menu + there are specials every day
What will we do?

We will have a FABULOUS time. Bring along some stitching, Show and Tell, an Anni Downes themed present if you want to go in the swap, some money for lunch (or you can bring your lunch) and a big smile because it is going to be so much fun.
You can read more about our first get together HERE and HERE and HERE and HERE and HERE.
I've even made us a logo

and started our own little Blog - The Mill Rosie Friends.
Please let me know if you are coming to lunch so I can book.
Can't make it this time, email me and I'll put you on our mailing list and of course check by our blog now and then. Interstate and overseas visitors visiting Victoria are very welcome too. In fact...
I'm totally in love with red and white quilts and red work stitcheries.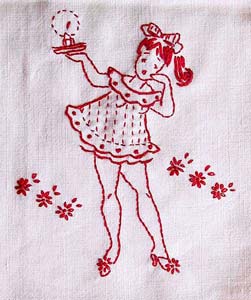 Here's a LINK to a fabulous Red Work Tutorial at fabulous Sarah's Hand Embroidery Tutorials