Firstly, I'm sorry Teddy Bears Picnic is so late this week. We lost our power for a few hours this morning.
Dot is the picnic dolly this week. She was also designed for a magazine, possibly Country Threads but I'm not really sure, it's a long time ago now.. I love her jacket, which I made from an old doily. I've always had a thing about old linen.
She will need her coat because it is still quite chilly here in Melbourne. Lovely sunny afternoons but cold foggy mornings. Actually I adore this weather, but I do have some Scandinavian blood back many generations ago, so maybe this is why.
Do you have an adventurous doll, teddy or softy who would like to venture outside on a picnic today. We could light a campfire and make billy tea to warm up all those little paws and hands. Please pop your details into Mr Linky and join in the fun.
This week I did a search for some sea creature patterns. So here we go.
A really cute sea horse softie from very clever Lia at
Liaspace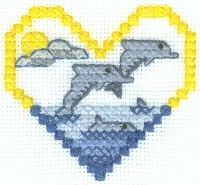 A simple but very sweet dolphin cross stitch chart shared by
Better Cross Stitch patterns
An adorable knitted whale from the
Knitted Toy Box
and Naughty Squiddy from the
Island of Misfit Patterns.
Thank you so much to the talented and generous bloggers who designed them.

If you are an animal lover please consider supporting the
Free The Bears Fund
. I do and it makes me feel good to know that I am helping to give the bears in various sanctuaries around the world a safe, peaceful and happy existence.